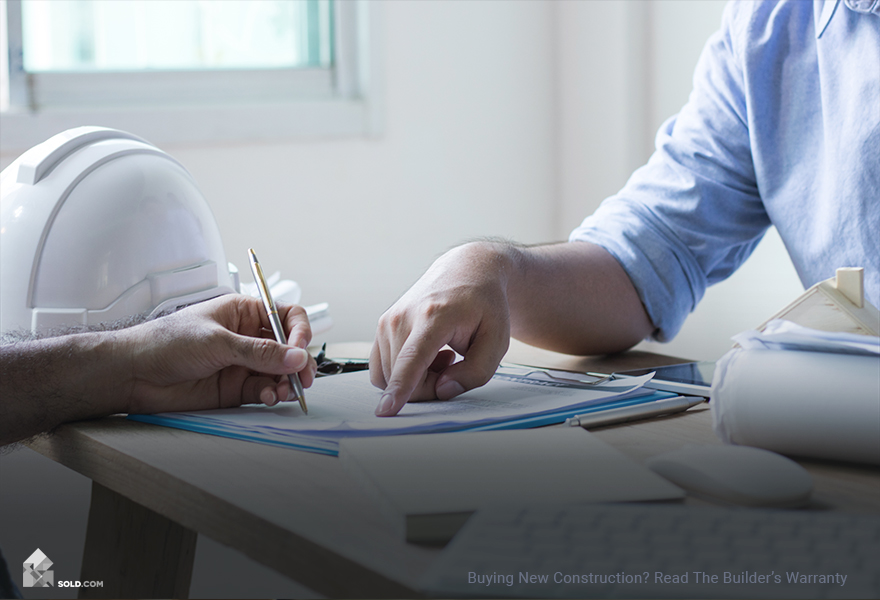 Homebuyers Buying a Home With New Construction
Homebuyers might think that buying a home with new construction means there's nothing to worry about. Everything is brand new so what could go wrong, right? Unfortunately, some builders cut corners in order to reduce costs, and sometimes honest mistakes happen and after a short amount of time the home becomes unsafe. That's where a builder's warranty comes in.
What Is a Builder's Warranty?
A builder's warranty is essentially an insurance policy for you, the homebuyer. If you buy a newly constructed home, the home builder promises said home will be free from structural, electrical, plumbing and mechanical systems defects. It promises the materials it uses and the workmanship completed will be up to a certain standard.
The time period the warranty covers is usually pretty short: one year for workmanship and materials, and two years for anything structural, electrical, mechanical or plumbing-related. Some builders provide a 10-year warranty on structural defects, which says a lot about their confidence in their workmanship.
If you sell your home within the active time frame of the warranty, the protection will transfer to the new owner.
What Does the Warranty Cover?
A builder's warranty covers:
Problems with the electrical wiring

Leaks with the pipes

Breaks in water, gas, drain or vent lines

If you have a built-in Jacuzzi in your bathtub, the warranty covers the whirlpool motors, pumps, and air switches

Sink, bathtub, shower and toilet stoppages

A collapsed roof

Physical damage to the load-bearing portions of the home

Issues with your HVAC system

Issues with your water heater

Malfunctioning range exhaust unit

A garage door opener that doesn't work

Issues with your central vacuum

Any ducts that aren't working properly
What the Warranty Doesn't Cover
A builder's warranty does not cover:
Appliances

Fixtures

Equipment

Any system defects that resulted from an appliance, fixture, or equipment failure when that appliance, fixture or equipment is covered by a manufacturer's warranty

Cracks in bricks, cement or drywall
A builder's warranty won't cover the expenses you incur because repairs are being made to your home. So if you need to stay in a hotel or eat out every day for a week, you will have to cover those costs yourself.
What Happens if There's a Problem
If you think there's a problem, the first course of action is to read your builder's warranty to make sure: a) your problem is covered, and b) you're still within the coverage period. If your problem is covered and you are still within the warranty coverage time period, the next course of action is to file a written claim with the company backing the warranty.
Builder's warranties come in two forms: one backed by the builder itself, one backed by a third party insurance company. If your builder's warranty is backed by the builder itself, you should consider purchasing a separate homeowner's warranty. That way you're protected in the event the builder goes bankrupt and can't pay for the repairs.
If your claim is accepted, the builder or third party will either restore your home to its approximate condition just prior to the defect, or it will pay you the reasonable cost to repair or replace whatever was defective. The builder's liability is usually limited to the original price of the home.
A builder's warranty is the homebuilder's way of saying it stands by its product. So if you're purchasing a new home, you should make sure the builder has made one available and then you should read it so you know what it covers. If you don't feel protected, purchase supplemental coverage. Your home should be your sanctuary and ensure that it's structurally sound and all the systems are working is a big part of that.