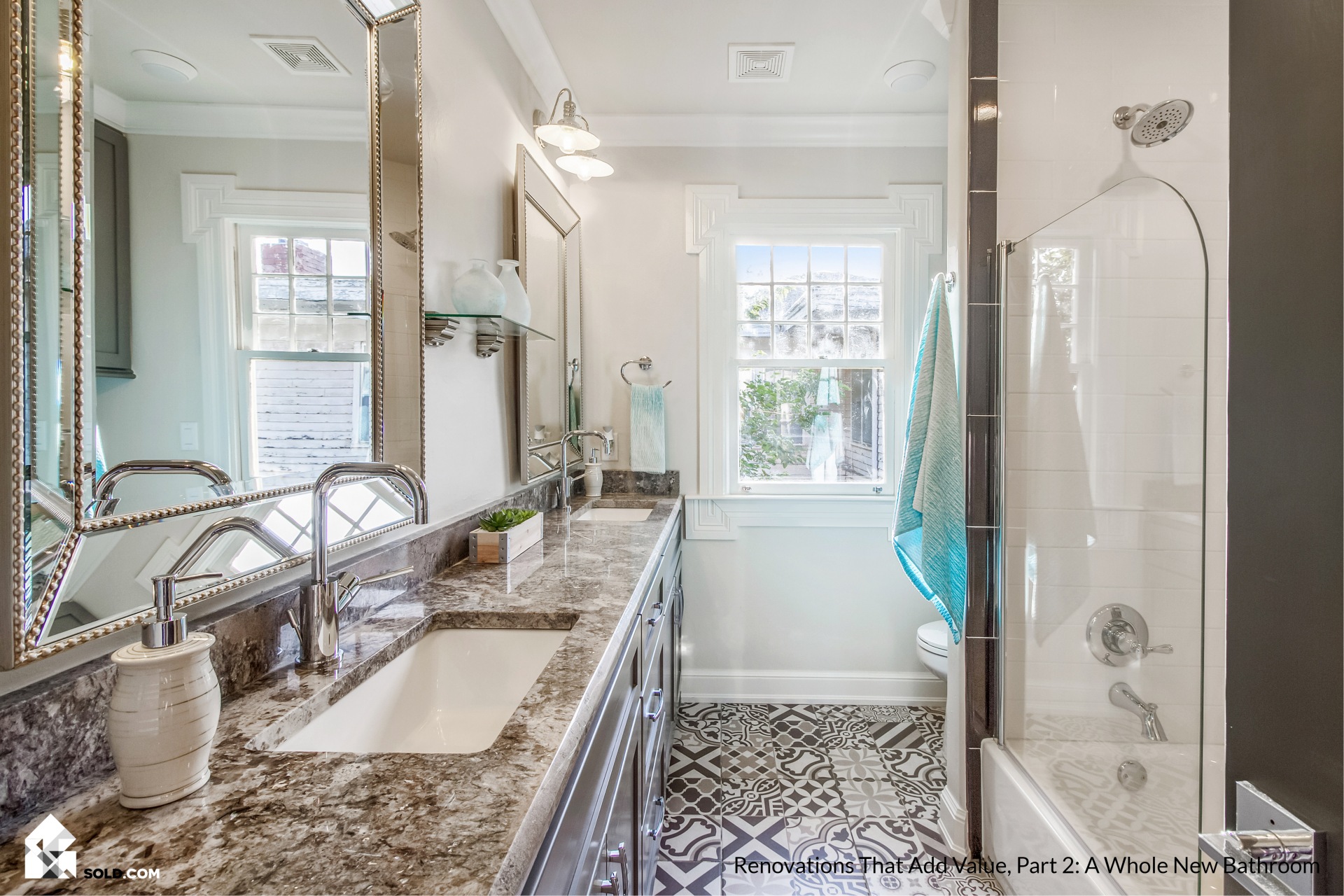 Once you decide to sell your home, you're inevitably faced with a decision: To renovate or not to renovate?
Sometimes, the best way to sell a house is to invest in some remodeling, enhancing its value and its appeal to buyers. But sometimes, selling your house doesn't require renovation work at all. What's more, not all renovations are created equal, and some help more than others.
To help you determine what kind of renovations to make when selling your house, we've started a blog series: Renovations That Add Value. In the first installment, we looked specifically at the kitchen—arguably the most important room in the entire home.
Today, we turn to another important area: Your bathroom.
Keep reading for some tips for selling your house, specifically with a renovated bathroom. And remember, by requesting your FREE seller's report from SOLD.com, you can get a personalized recommendation for the best way to sell a house. Request yours today!
Renovating Your Bathroom
When it comes to home renovations that add value, small bathroom renovations tend to top the list. That is, small bathroom renovations are the projects that tend to bring you the highest return on your investment.
But what do we mean when we talk about small bathroom renovations? Do you actually need to rip apart your entire bathroom and rebuild it from the ground up? In some cases, maybe yes, if you've got a bathroom that's truly in bad shape and hasn't been updated in decades.
Most of the time, however, you can aim for something a little more modest: Replace your tub, toilet, vanity, sink and all the tiling, which is possible for as little as $10,000 and can yield a return on investment of at least that much when you resell.
Going the DIY Route
That's the ideal, but there are some even smaller bathroom remodeling projects you can handle on a DIY basis, all of which will help you get your place sold. For example:
If your tub looks a little roughshod, you can re-caulk it and make it look like it's brand new again. This is very easy and doesn't require any technical expertise.
You may not want to replace your tub, and it may be too big to fit out the door anyway—but you can re-glaze it and make it look like it's brand new.
If your bathroom walls are covered in dated wallpaper, rip it down and re-paint. And if your paint job has seen better days, again… repaint! It can go a long way toward making your bathroom more appealing to potential buyers.
If your shower door looks dingy, replacing it is easy; you might even remove it altogether to provide a greater sense of roominess.
Something else you can do is replace the hardware in your bathroom, including the handles/knobs on your vanity and possibly even the faucet itself.
These are just a few examples of DIY bathroom renovations that can make a real difference, without breaking the bank.
Thinking in Terms of Value
It's important to note that, while upscale bathroom remodels can sometimes be necessary and valuable, you'll usually find the ROI sweet spot by sticking to something a little less ambitious.
It's really a matter of thinking in terms of resell value: Retiling your bathroom will add to its allure, and make it easier for you to get the place sold—maybe even for a little more money. A heated floor, meanwhile, will be extremely expensive to install, and frankly it's not something many buyers are going to even have on their radar. The ROI value wouldn't be much, if anything.
To that end, make sure you spend some time furnishing, arranging, and decorating the bathroom once you finish your renovation. Don't underestimate the power of decluttering, or of placing a simple vase with fresh flowers to greet potential house hunters.
Those are our tips for selling your house via bathroom remodel. Next time around, we'll wrap up our Renovations That Add Value series with some thoughts on bedrooms, outdoor space, and more.
Tune in, and as always, make sure you snag your free seller's report from SOLD.com right away!