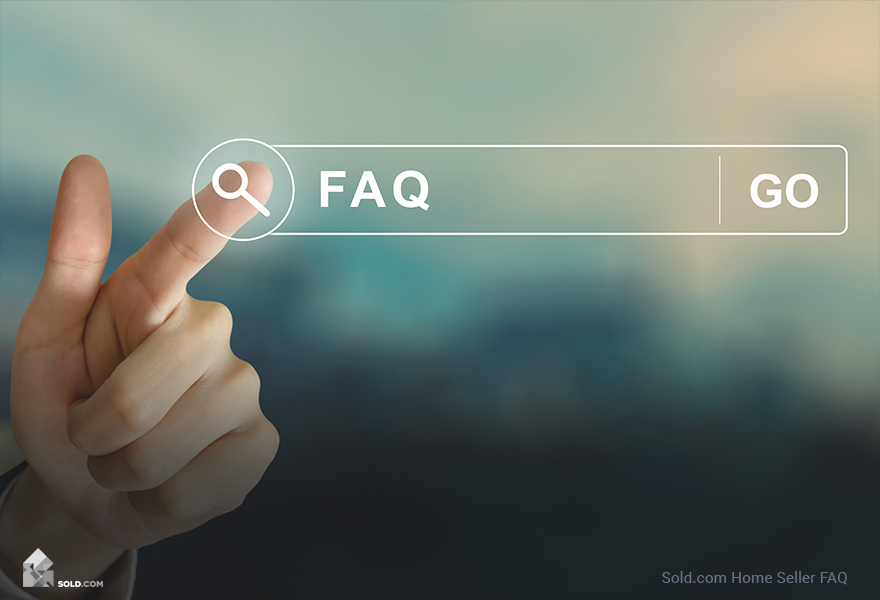 As a home seller, you may have lots of questions. Sold.com's Home Seller FAQ has the answers! We've compiled the questions (and answers) that we see the most from first-timers and veteran home sellers to guide you through the process.
Looking for a better way to sell?

Discover your options 100% free
The Sold.com Home Sellers FAQ section answers some of the most frequently asked questions about selling a home and conducting real estate transactions. These questions include:
How Much Is My House Worth?
The big question. You can't get too far selling your home if you can't put a price on it. If you hire a full-service real estate agent, they will use "comps", short for comparables, to help draw an accurate picture of what your home is currently worth. Agents also draw upon years of experience and local, neighborhood insight to price your home.
If you're a FSBO (For Sale By Owner), you can do some homework online and come up with a listing price on your own. Visit sites such as Zillow, Trulia, Redfin, and realtor.com and search for homes in your neighborhood or town. Compare your home to the homes for sale or recently sold, and make your own valuation based on square footage. You can also spend a few bucks and hire a home appraiser, who will give you a full report (much like a Realtor's CMA) and a number.
Get your free report
There are so many new ways to sell your home.
Which one is right for you?
How Much Are Closing Costs When Selling A Home?
The homebuyer pays for what are traditionally thought of as "closing costs." Items such as the application fee, credit report, title insurance, property taxes, escrow fees, origination fee, underwriting fee, etc. These line item costs make up about 3% of the selling price, on average.
Home sellers, on the other hand, also pay at the end of the transaction. The commissions that full-service real estate agents earn account for the largest costs at the end of a property transaction. While technically not a closing cost, commissions average 5-6% of the home's final price, and that money is split between the buyer's and the seller's agents.
According to a study by Zillow and Thumbtack, the average home seller will also spend just shy of five thousand dollars on prepping their home for sale, and over thirteen thousand dollars on agent commissions. Figures based on U.S. median home values; your home and costs may differ greatly.
For more helpful home selling tips and advice, visit Sold.com. For personalized home selling options and tips, take our Home Seller Quiz now!
How To Sell A House By Owner
We won't go too deep here because we've written entire articles on this very subject. Click [here] and [here] for a more in-depth look at being a FSBO (For Sale By Owner).
To summarize, you need to put in some time and effort to sell your own home. You'll need to price your home, prep it for sale, list it on the Internet, market it properly, stage it, conduct tours, hold open houses, negotiate and close.
And if you're really a savvy FSBO seller, you'll go to Fizber.com and let them help you in every way possible.
When Is The Best Time To Sell A House?
Spring is the season to sell, according to statistics and real estate common sense. Listings spike in early April and continue well into the early summer months. Basically, when the weather warms up, the real estate market heats up, too.
Here are a few reasons why:
School: many families begin looking for new homes in spring, with the intent of closing right around the same time school ends.
Presentation: homes simply look better in spring and summer. Green lawns, colorful flowers, better sunlight… it all adds up to better curb appeal, better showings, and better sales.
Longer Days: Guided home tours and open houses don't have to end at 5PM, which means more opportunities for more buyers to view your home.
Weather: this one is kind of a no-brainer, but in many parts of the country, you simply can't go house shopping in 2 feet of snow.
What Does Appraisal Mean When Selling A House?
A home appraisal is an approximation of your home's worth. It serves as peace of mind for the lender or bank that the property being purchased has a certain amount of value. Home appraisals are conducted by an appraiser after the purchase price has been agreed upon by both the buyer and the seller.
An appraiser's main job is to walk through and around the entire home, taking note of what features the home contains and what condition they are in. While a home inspector is searching for problems or things that don't work properly, an appraiser is simply vouching for the home's value. Home appraisals usually cost around three hundred dollars and are typically paid for by the seller.
How To Find A Seller's Real Estate Agent
The most common way sellers (and buyers) find a real estate agent or Realtor is through referrals. You either ask family or friends if they've had a good experience with a particular agent. Or, sometimes friends and family find out you're selling your home and refer agents to you. Either way, having someone you respect and trust vouch for an agent goes a long way in making a choice.
Another thing to look for is local knowledge and experience. Ask neighbors or people in your community about any agents they know. You can even drive around and look at for sale signs in your neighborhood. Does one agent have the majority of listings in the community? Seek out these "neighborhood specialists" and put them on your short list. Many times these agents actually live in the neighborhood themselves and have special insight into selling homes there.
How To Sell A House Fast
Please understand that "fast" is a relative term in the real estate industry. For example,  you could receive a great offer on day one. If you accept it, you could still be looking at anywhere between 30-45 days until the deal officially closes.
To help streamline the process to that best offer, there are some things a seller can do to sell their home "faster": hire an agent, list the property on the MLS, list in early spring, price the home accurately, dial up the curb appeal, get a storage unit for clutter, paint the interior, stage the home like a pro, take great photos, remove pets and their odors.
There are also not-so-traditional ways to sell a home, such as a cash offer or direct home buyer sites Opendoor and OfferPad.
What Do Seller's Agents Do?
Bottom line, if you're a home seller, you want a real estate agent who sells your home as quickly as possible for as much as possible. But what specific actions does the agent take to achieve that goal?
An agent or Realtor's first step is to price your home correctly. Next, they will help the seller with recommendations on decluttering, curb appeal and small repairs. Then they will list the home and market the home through a mix of traditional and digital channels. Staging and showing the home comes next, followed by (hopefully!) helping the seller negotiate with buyers.
Of course, the above list is a highlight of the main things a seller's agent will do in any successful transaction. However, there are many other details and duties an agent will complete on your behalf. Click here for a more in-depth article on everything a seller's agent does.
Who Pays Realtor Fees When Selling A Home?
The seller pays for a real estate agent or Realtor commission fees after the sale has closed. The seller and the agent agree to the commission fee, usually a percentage of the final selling price. This number (usually 6%, but it varies and is negotiable) is basically split up between the seller's agent and the buyer's agent.
For example, let's say you sell your home for $200,000. The commission number you agreed upon with your agent is 6%. Therefore, the commission would equal $12,000, which would give each agent $6,000.
What Is Fair Market Value?
Simply put, the fair market value is the amount a buyer will pay and the amount a home seller will accept. However, homes don't always sell for fair market value.
In certain cases, a buyer may offer more than the list price or more than fair market value if they are really interested in a property or a bidding war breaks out. On the flip side, home sellers may take less than fair market value if they are in a financial bind or similar situation.
How To Sell A House Without A Realtor
Most sellers, just over 90%, hire a real estate agent or Realtor to sell their property. Being a successful FSBO (For Sale By Owner) takes time, effort and patience. Here are four main areas you'll want to concentrate on:
Prep And Pricing:  putting your pad up for sale means doing plenty of prep work. You have to fix, clean and repair everything possible. Accurately pricing your home for sale is also key. Use information available on home listing sites such as Zillow and realtor.com to make your own "comps."
Listing and Marketing: you need a digital presence to compete in today's real estate market. Be sure to list your FSBO home on the MLS and in addition to flyers and signs, market your home via social media sites such as Facebook and Twitter. Gets tips at Fizber.com.
Showings and Open Houses: as a FSBO, you'll be giving tours and holding open houses of your own property. The remaining objective will be your number one priority.
Negotiations: stand your ground and make a counter offer—it's in your best interest!
How Long Does It Take To Sell A House?
The official, statistical answer is 45-65 days. However, this is one of those questions where more than one answer applies. The best of those being, "it depends."
In a hot seller's market, agents will tell you that a home shouldn't last more than three weeks. In a buyer's market, homes might sit for a month or two before an offer comes through. Again, it all depends on factors such as inventory, the economy, the zip code, the season, if it was priced too high, etc.
How To Increase Home Value
There are many ways to add to your home's value, including simply making your monthly mortgage payments!
Some of the more popular moves to make include making small upgrades to the bathroom and kitchen: change out handles and fixtures, put in low-flow toilets, and paint or stain cabinets.
Go green by adding solar panels and consider putting in a tankless water heater. A relatively cheap way to spruce up your landscaping is to revive your lawn by laying new sod. A fresh coat of paint and new flooring will also go a long way in justifying your asking price.
What Is A Short Sale?
If a homeowner gets behind on their payments or the home is underwater (when the home is worth less than the mortgage balance owed), doing a short sale may make sense.
In a short sale, the owner gets permission from the bank to sell the home for less than what the bank is owed. A short sale can be complicated and the process usually takes much longer than a traditional home sale. However, the benefits of a short sale can make it a worthwhile endeavor. The bank avoids foreclosure and repossessing the home, while the homeowner doesn't take the hit on their credit and/or avoids going bankrupt.
For more helpful home selling tips and advice, visit Sold.com. For personalized home selling options and tips, take our Home Seller Quiz now!
How Much Should I Offer The Buyers?
How much you should offer on a home for sale is not exactly a black and white situation. There are many factors involved, but the driving force is market conditions.
If you find yourself in a buyer's market, where homes are on the market for longer periods of time, you may get a "lowball" offer, anywhere from 10-20% below the list price.
However, if you're in a seller's market, where homes are moving quickly, you probably don't have time to come in low. If homes are selling above listing price or bidding wars are breaking out, then definitely don't offer less than a listing.
What Is An Earnest Money Deposit?
Earnest money is a good faith deposit that is collected from the buyer by the seller once an agreement on price has been made. This is to ensure that the buyer is a serious buyer and isn't just going around town making agreements with other home sellers.
The amount of earnest money varies, but 1-2% of the sales price is pretty standard. If for some reason the seller changes their mind or backs out of the deal for whatever reason, the buyer will receive their earnest money back. If the buyer backs out, dependent upon certain contingencies, they will forfeit their earnest money.
Once the deal is done, the earnest money will be applied towards the buyer's closing costs.
As A Home Seller, How Long Do I Have To Respond To An Offer?
Unless the buyer spells out a specific time frame to respond in their written offer, a home seller can take as long as they want, or simply not respond at all.
However, it is customary and polite for the seller to respond to the buyer within 24-48 hours of receiving the offer. A seller can accept the offer, make a counteroffer, or simply reject the offer altogether. Flat out ignoring a buyer's offer and offering no response at all should only be considered if the offer was super low. Not replying is considered to be an insult to the seller.
What Should I Disclose To Potential Buyers?
Each state varies, by law, what sellers must disclose to buyers. But beyond your legal obligation, it's a good rule of thumb to disclose everything you know to the potential buyer.
That doesn't mean you have to seek out things to disclose. However, if you know of a problem or risk that the home inspector didn't catch, it's still a good idea to be honest and forthcoming to your buyer.
Here are some things to always disclose:
Environmental issues such as lead paint, asbestos, radon, and mold.
Pest infestations such as rodents, insects or reptiles, especially termites or carpenter ants.
Natural hazards such as flood zones or drainage issues.
Construction defects or system problems such as electrical, plumbing, etc.
HOA rules or property line disputes.
What Is The Difference Between List Price And Sale Price?
A list price is how much the seller lists the home for, also referred to as their "asking price." The sale price is the amount the home actually sells for.
Selling Your Home?
Sold.com shows you a better way to sell your house. Take our seller quiz to find out your best selling option.
Get your free reportThere are so many new ways to sell your home. Which one is right for you?Get my report